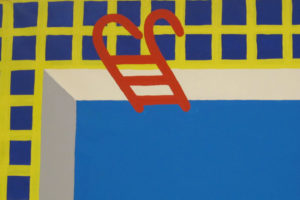 REGSTRZN FREQNZ – Galleria d'arte moderna di Bologna – 20 March 1982 – Group exhibition.
" Regalo per Eddy " on video – Originally published in Frigidaire magazine.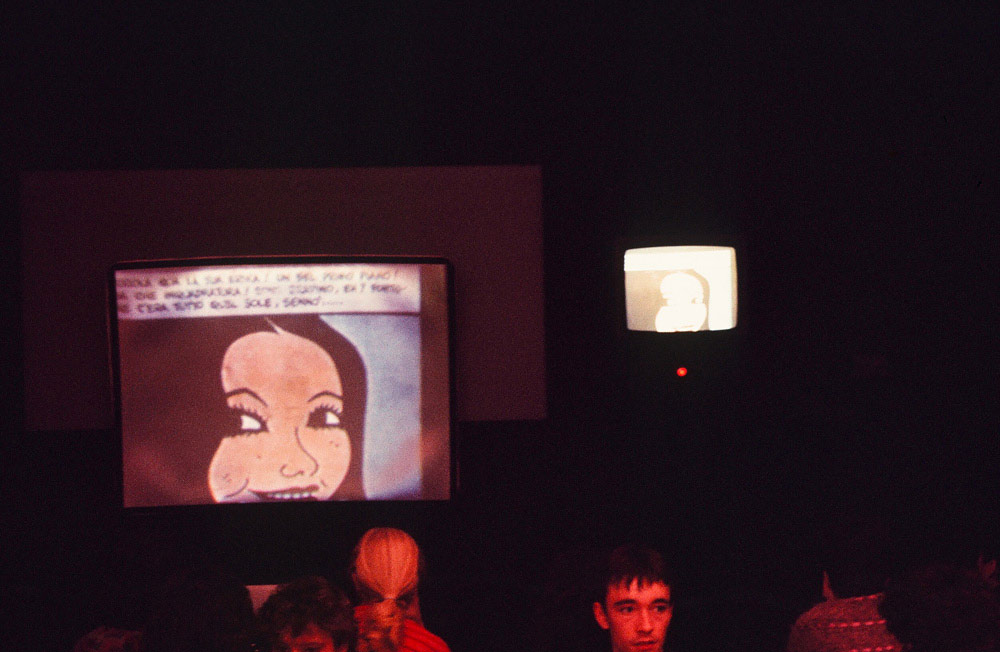 Massimo Mattioli was in this collective exhibition showing: 5 pages of " Joe
Galaxy e le perfide lucertole di Callisto IV " with colors in the back, exposed on a light box
provided with a switch; a sequence of slides projected on screen showing, among other things,
the entire story " Regalo per Eddy ", synchronized image by image with the voice of the Artist
reciting on tape.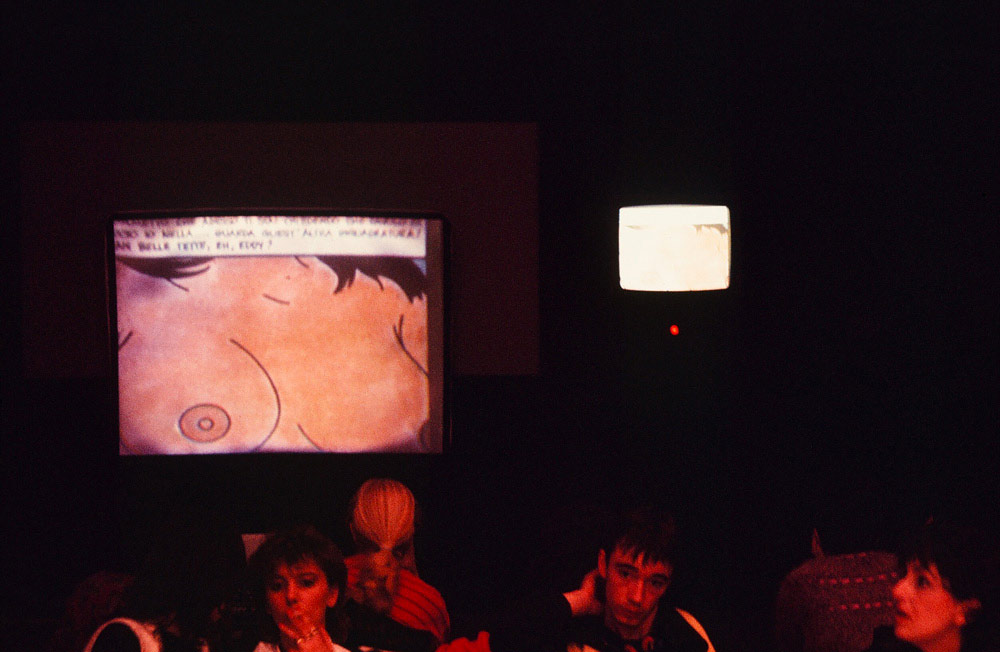 Massimo Mattioli è, forse, l'autore più apertamente vincolato alla storia del
fumetto alla Walt Disney: paperi e topi, mici, lucertoloni e mostriciattoli ameboidi, tentacolatori
e proteiformi d'ogni genere. Joe Galaxy è un papero aquilotto furbacchione che se la spassa a
pancia all'aria in un'oasi del deserto sguinzagliando per il mondo finti doppi a rischiare la pelle
per lui, e dilettandosi in safari preistorico-futuristici di animali dal nome strano, molli e abnormi
come 'cosi' indefiniti. Panic in the city, un altro dei suoi pezzi più famosi, pubblicato sempre su
Frigidaire ( ma negli anni passati anche Mattioli, come Pazienza, aveva realizzato splendide
storie su Cannibale ), presenta folle atterrite di topi dai grandi occhioni interrogativi, e un'intera
gamma di personaggi tipici da fumetto, come il mitico Superman-Superwest, tutti ironicamente
straniati e deformati. Ma Mattioli, nei suoi fumetti, non risparmia nessuna tecnica o artificio
compositivo.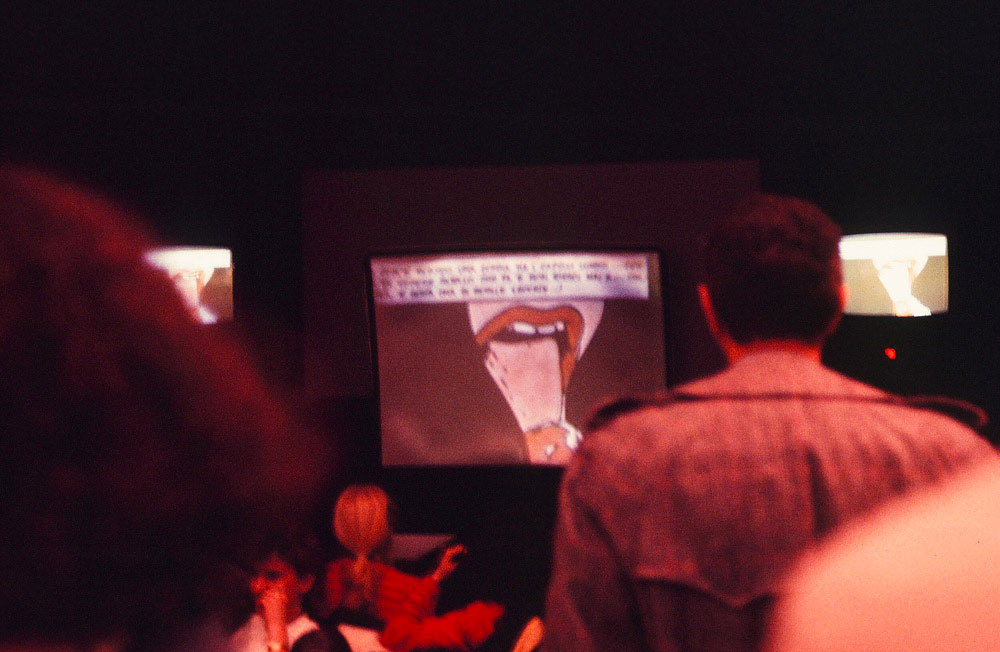 Le sue storie sono sempre accuratamente studiate secondo il principio della riflessione
speculare, della sequenza filmica o televisiva, con scarti a sorpresa di replays, flash-backs,
microfilms. Per non parlare dell'uso di angolazioni visive come il piano-sequenza, zoomate , i
tagli irregolari. Ogni puntata di Joe Galaxy ha seguito un metodo di presentazione
differenziato. La 3a puntata, è stata presentata come una doppia facciata di disco.
Interessantissime, poi, le sue campiture di colore compatto, a stesura perfettamente uniforme
à plat, ottenute con l'uso di retini colorati. Mattioli si attiene scrupolosamente a tecniche di
natura tipografica, riducendo al minimo l'uso della mano ( le sagome delle sue figure vengono
ritagliate con il taglierino ). Ma straordinario è l'effetto cromatico, e la seduzione tattile, prodotti
da questi materiali poveri, non artistici. Le sue tavole sono dei capolavori di rigore grafico, e
assieme sembrano dei Wesselman e dei Matisse.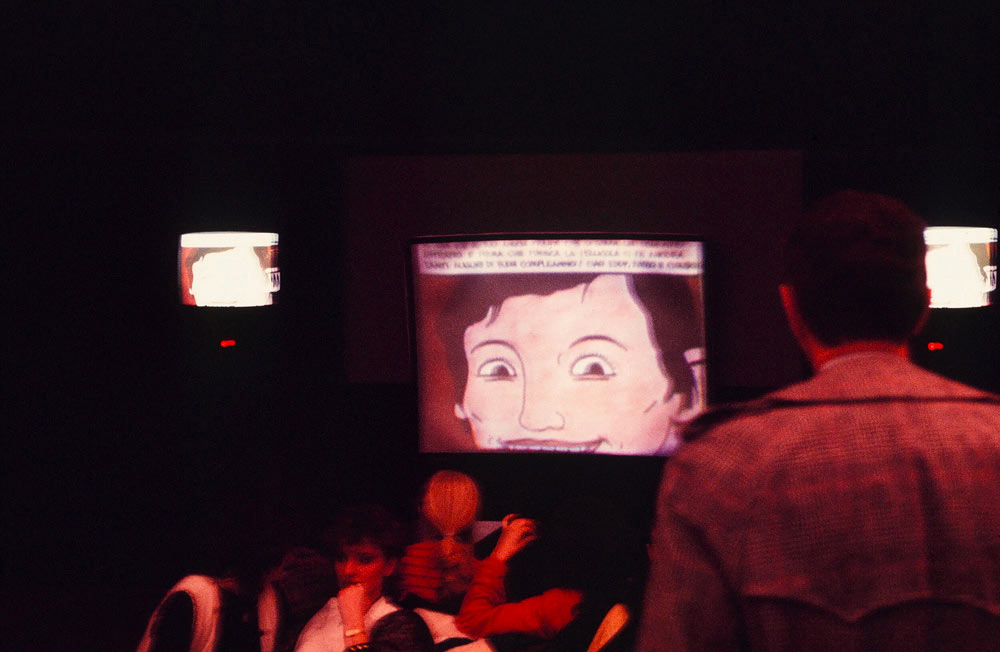 Text from " Frontiere di immagini " by the curator Francesca Alinovi, published in the catalogue.
T-SHOW – Studio Marconi gallery, Milan – April 1984 – Collective exhibition.
" Frogs " ( 3 colors ) – Hand-printed by the silk-screen process in a limited edition of 120 copies numbered 1-120 and signed by the Artist.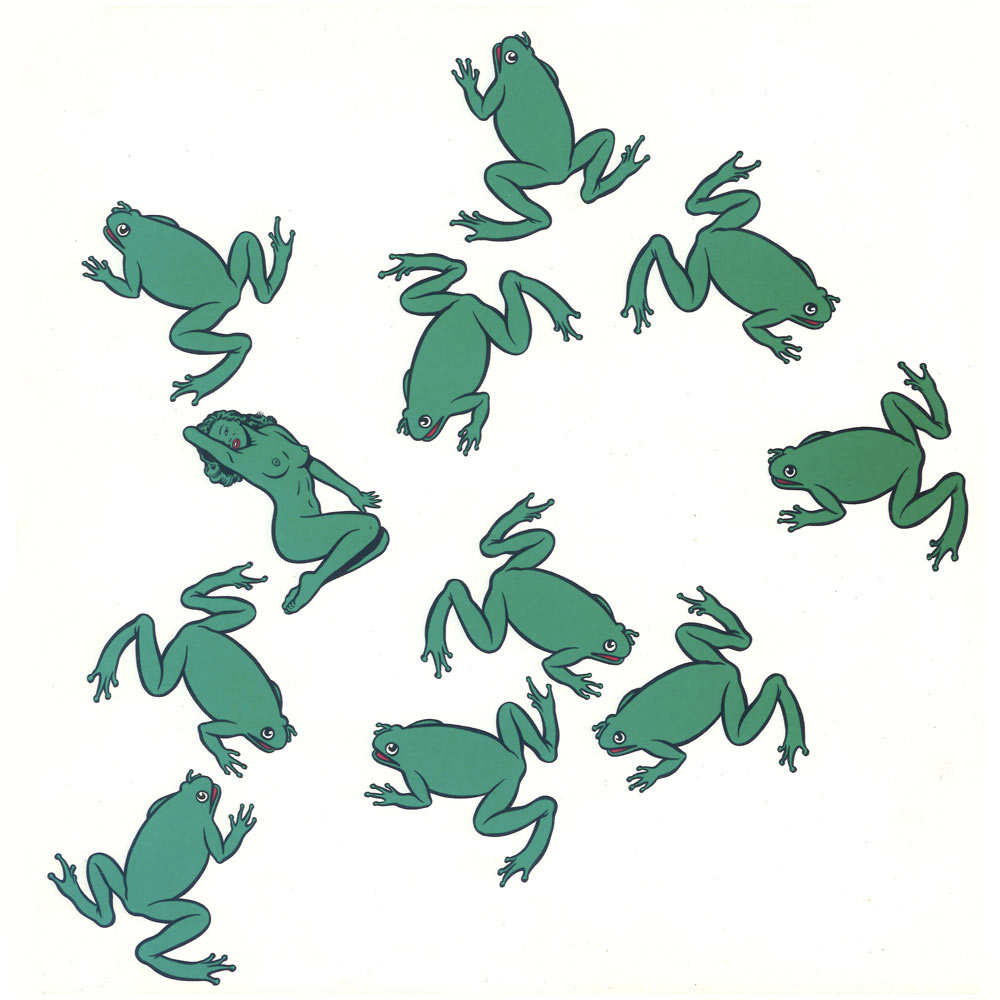 Amongst the featured artists were: Valerio Adami, Renzo Arbore, Franco Battiato,
Alighiero Boetti, Gillo Dorfles, Gianfranco Ferré, Elio Fiorucci, Dario Fo, Massimo Giacòn,
Morishita Keizo, Gaetano Liberatore, Andrea Pazienza, Cinzia Ruggeri, Mimmo Rotella, Mario
Schifano, Stefano Tamburini, Oliviero Toscani, Ornella Vanoni.
FLYING CARPETS – Spazio Memphis, Milan – 1985 – Group exhibition.
" H2O " – Acrylic on canvas ( 150 x 270 cm ).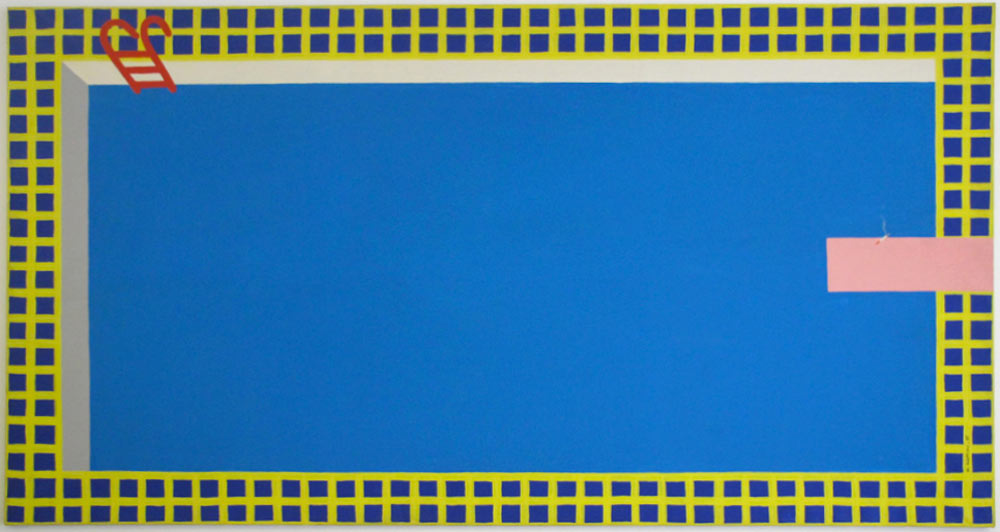 Project of carpet painted on canvas and exposed horizontally. The collective
project was not carried out.
SWATCH STREET PAINTING – Basel, Switzerland – 1987 – Group exhibition.
" Hours " – Acrylic on canvas ( 250 x 300 cm ).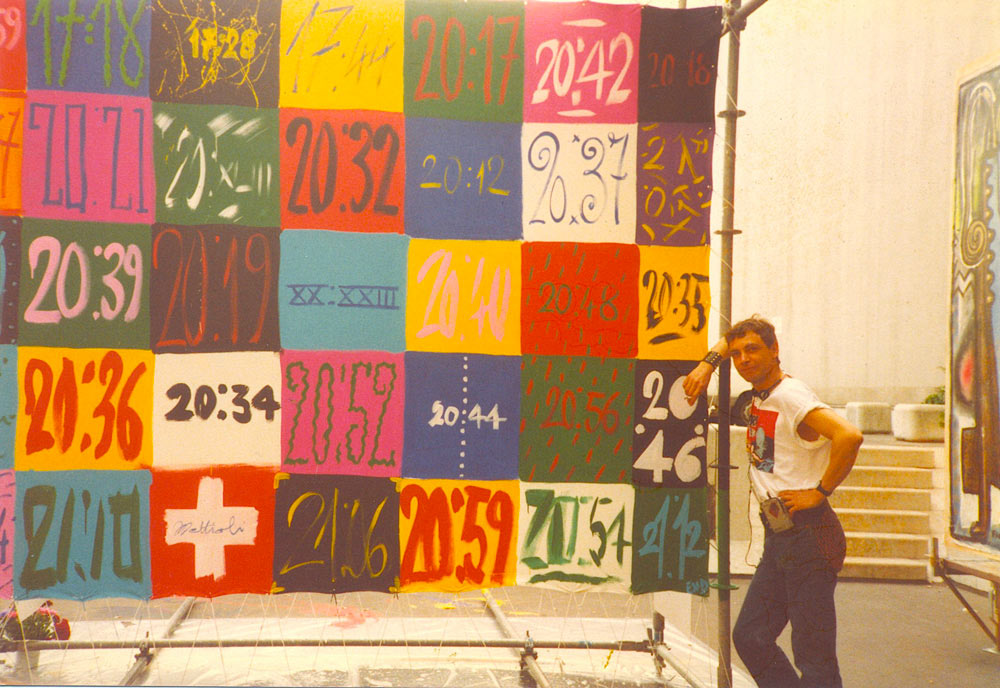 Massimo Mattioli filled up his big canvas with 35 squares in different colors, each
one with the hour and minutes when he was painting them, one by one, not in linear
sequence. The performance began at 16:59 and ended at 21:12 with the signature in the last
square, reproducing the Swiss flag.
SALÃO LISBOA – ILUSTRAÇÃO E BANDA DESENHADA '99.
" Superwest " – Image from the story ' Cartoons hold-up '.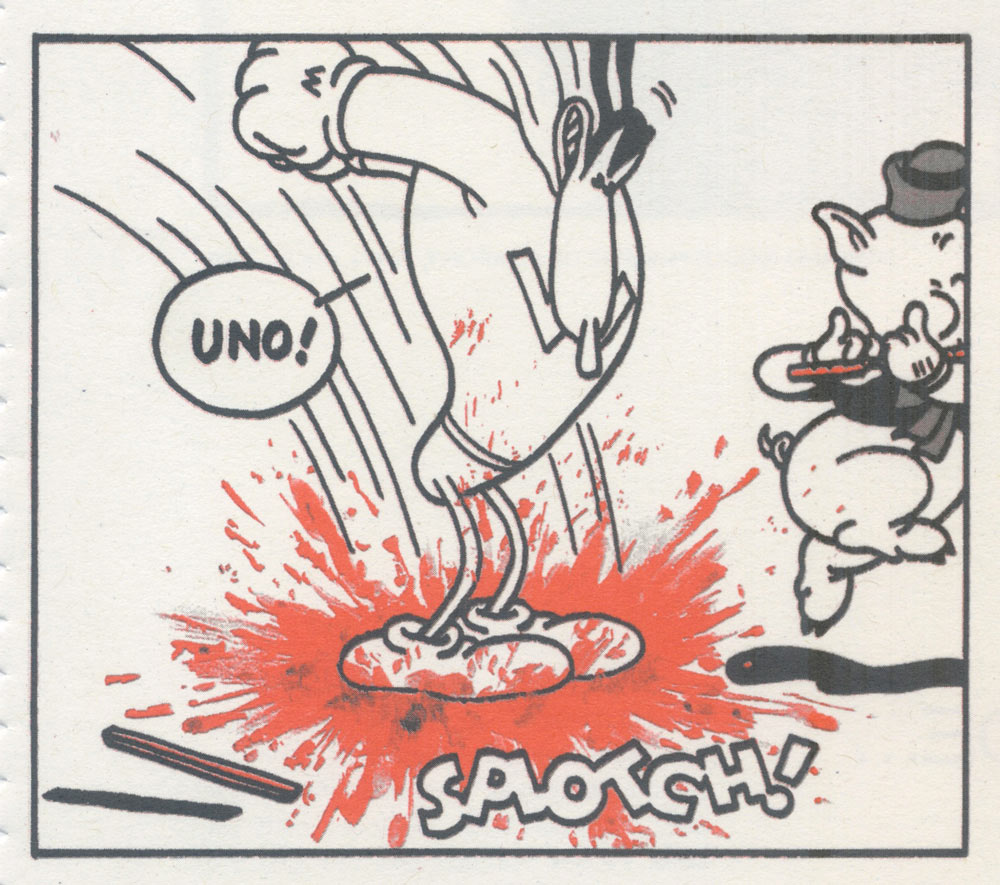 Visões dos clássicos aos contemporâneos, da ventura à poesia, Itália continua,
contra ventos mediáticos e marés de mercado, a fornecer dos mais densos e experimentais
horizontes na narrativa gráfica. O momento em que o século se apaga é pretexto mais
suficiente para ir ver com olhos de ler. São seis autores, mas podiam com facilidade triplicar-
se os exemplos de invenção e originalidade técnica – algures entre o céu de Miguel Ângeloe e
o inferno de Dante.
Clássicos e contemporâneos, por vezes contra o mercado e noutras inventando
espectaculares sucessos, os nomes de Battaglia e Toppi, Giacon e Mattioli, Ricci e Giandelli
são representativos de uma tradição de narrativa gráfica possuidora de uma ziqueza
exemplar e altamente partilhada. É curioso detectar um pouco por todo o mundo as
influências de autores italianos, mas um tal estímulo não se fica pela ilustração e contamina o
design, a moda e o cinema.
Dos anos setenta ao fim dos oitenta, a evolução da banda desenhada é de tal modo…e
sugestiva que, nas páginas de revistas como Frigidaire, Cannibale, Il Male, Alter até a Orient
Express, Comic Art, Il Grifo e Dolce Vita ganham forma modalidades expressivas de
vanguarda, seja no aspecto estético seja no do conteúdo.
Foram anos exaltados, exaltantes e belíssimos. Parecia que um movimento criativo e
imaginário podia mudar mesmo o sentido dos códigos da banda desenhada e renovar
profundamente os gostos convencionais do público itajiano. Mas pelo contrário, essa época,
mesmo se iluminada, foi tão breve e irrepetível que nela, nesse momento histórico, cultural,
ético e politico, encalharam muitos sonhos e algumas vidas.
Excerpts from the exhibition catalogue – 1999.
TOY COMIX – Musée des Arts décoratifs / La Galerie des Jouets, Paris – 15 November 2007 – Group exhibition.
" Yro the robot " – 3 pages – Ink on paper.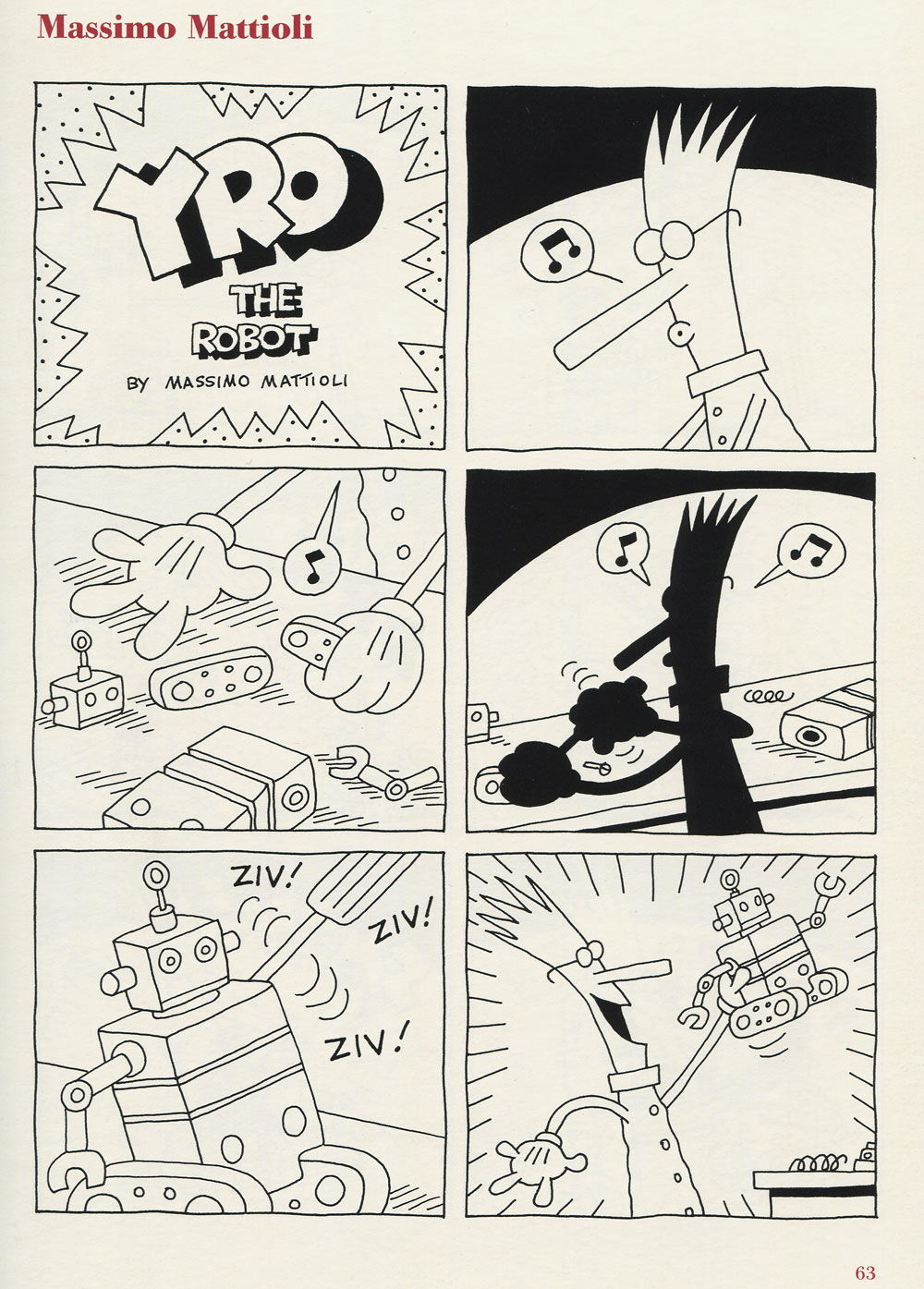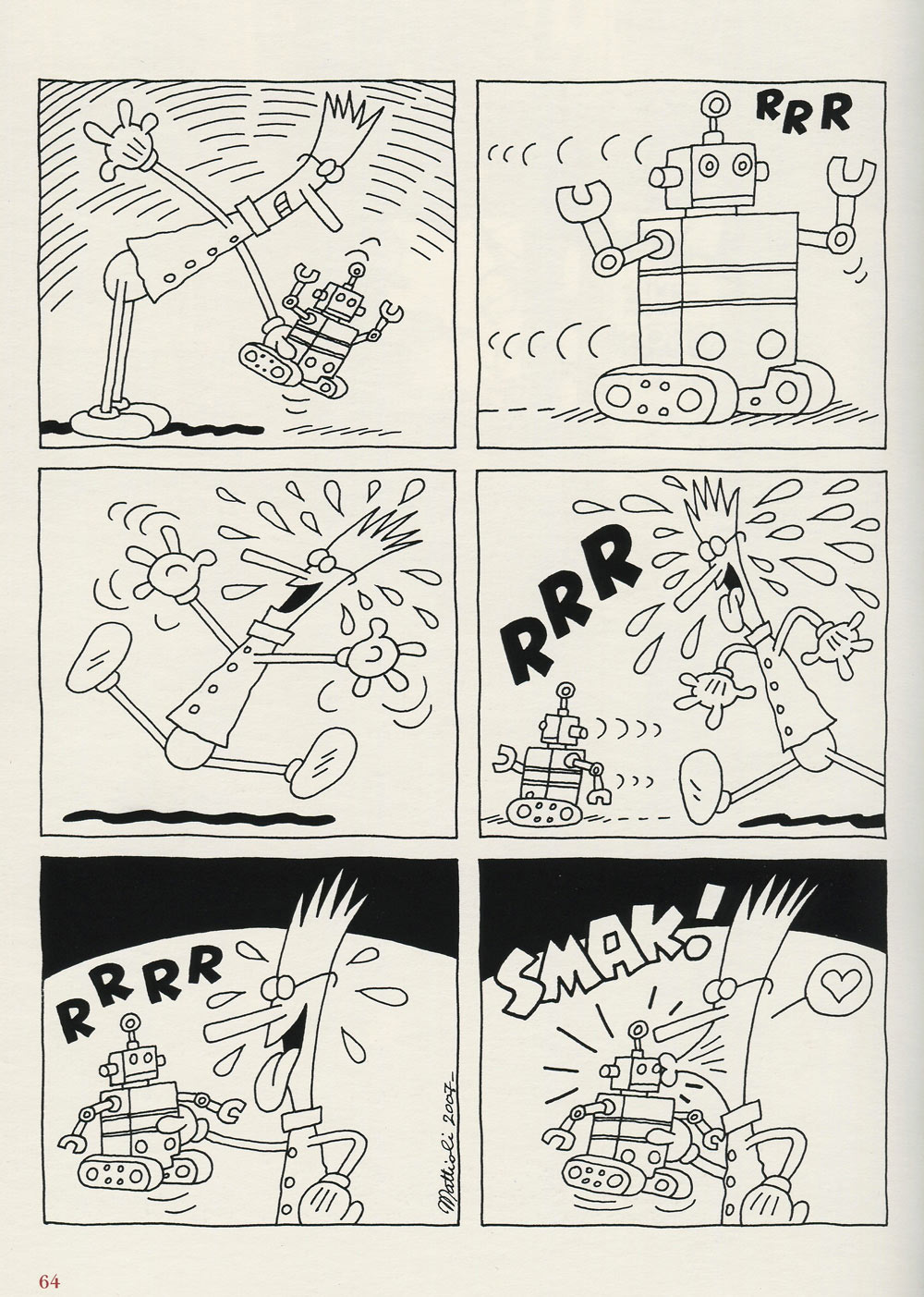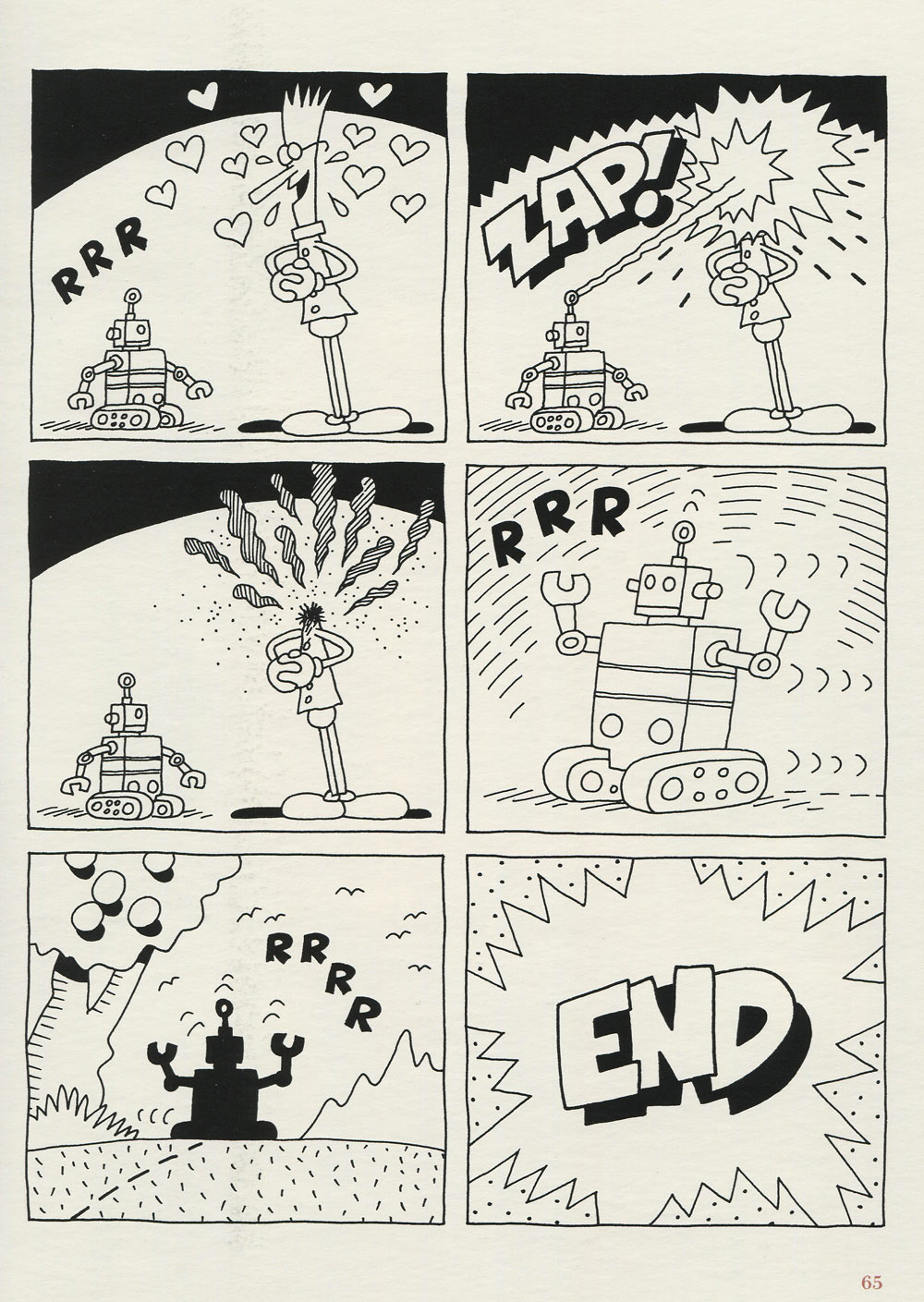 18 comics artists were asked to make a choice of one toy from a group of 18,
being part of La Galerie des jouets / Le Musée des Arts Décoratifs collection, and to create a
story in 3 pages based on that toy. Massimo Mattioli selected a blue robot and called his story
" YRO THE ROBOT ".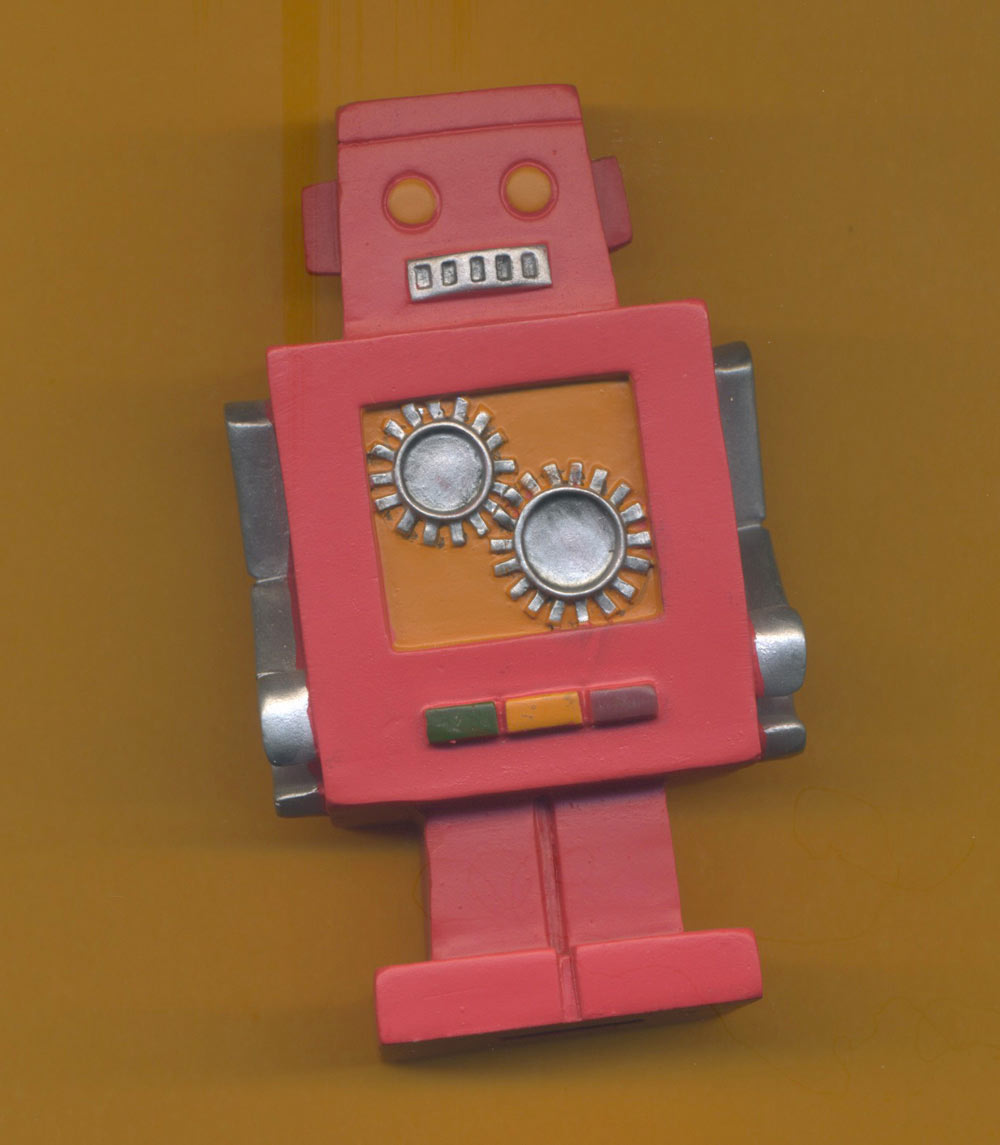 Inside the exhibition there were videos of each artist answering the question: " Can you
narrate a meaningful anecdote connected to a toy of your childhood? ".
Mattioli's answer was: " It was a robot called GRIC, red metal, 5 centimeters tall, with a key on
its back. My father gave it to me. That very day I took it at home. I turned the key and made it
walk before my cat. He jumped on it as if it was a mouse. He amused himself for a few days,
then it bored him. I kept on to walk it under his nose. Then, he vaguely touched it with his paw.
He was bored stiff, but he was doing this all the same to entertain me ".
VALVOLINE STORY – Fondazione del Monte, Bologna – 2-30 March 2014 – Group exhibition.
" Bastardi " – detail – Ink on paper.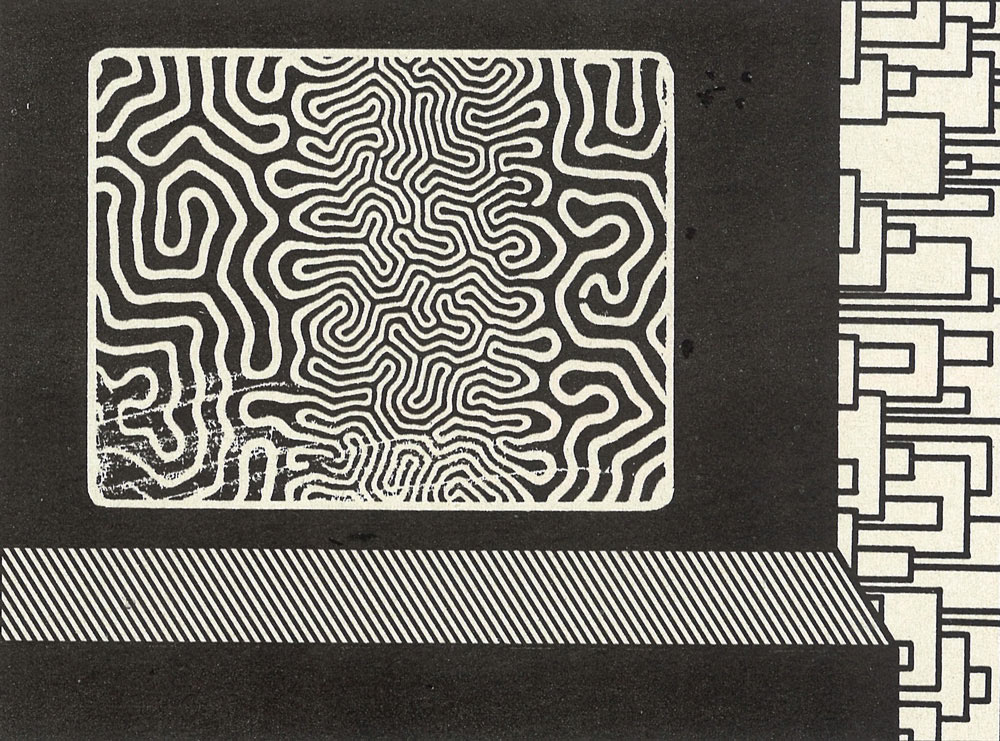 Massimo Mattioli was in the show with the story " Bastardi ", originally published in Frigidaire magazine, as special guest.